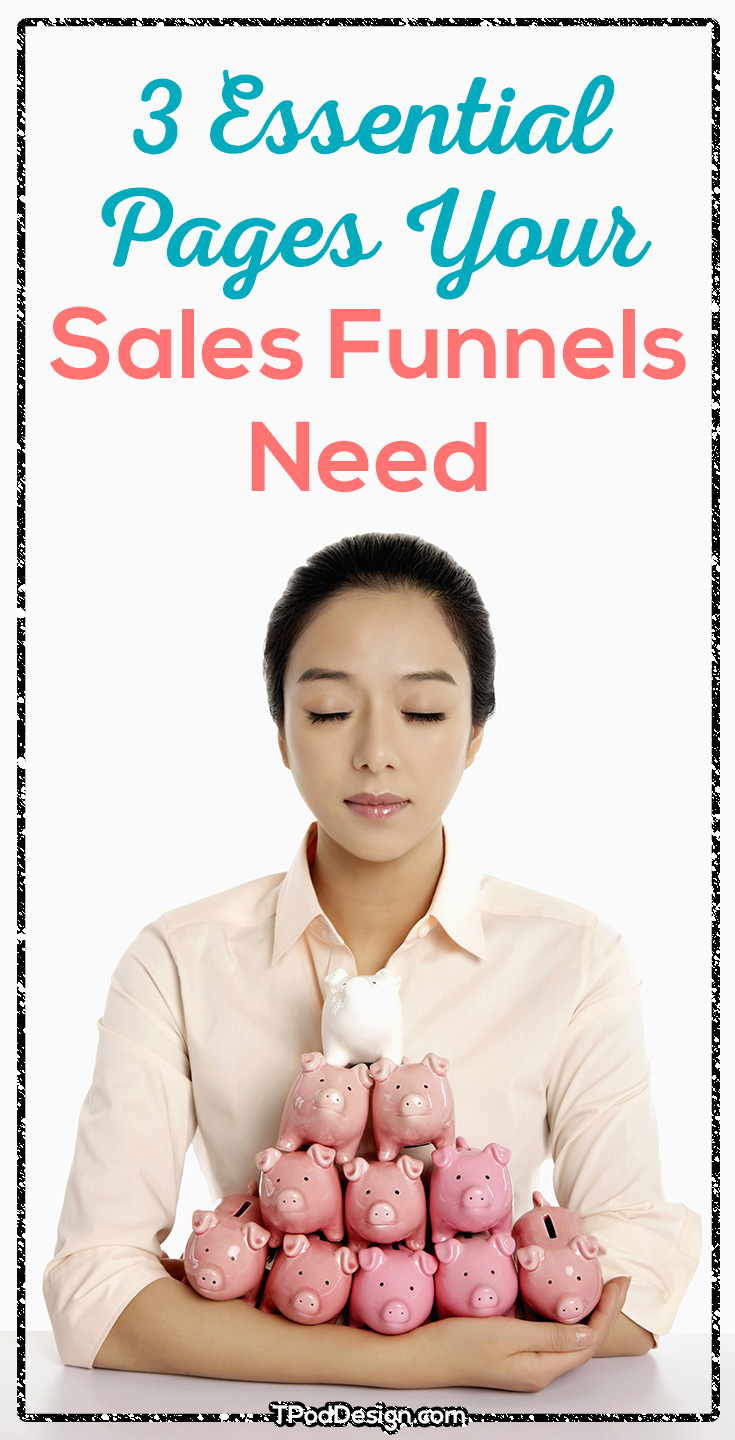 The pages your sales funnels need may not be obvious at first. In fact, that's the top reason entrepreneurs say they can't get funnels set up — they don't know what to include.
Here's the answer: At the very least, your sales funnel needs three pages.
Sales Page
Call it a landing or squeeze page, it serves one purpose — to get your audience to take action. Whether that's to buy a product or enter their email address for a free gift, this is the top of your funnel (more about the funnel stages in this post). This part will make or break your funnel, so be sure to:
Include a clear call to action — and ONLY one, such as, "Buy Now" or "Click here to download this report for free"
Eliminate distractions — that means no links to other websites or even a navigation bar; give them nothing to do except your call to action
Use sales copy that's persuasive and engaging — Address the readers' pain points and how your offer provides the solution
Confirmation Page
Don't get hung up on the terminology. For your funnel, this might be your checkout page; it's where they enter their payment. For a free offer, it's the page your email management system directs them to next, probably asking them to check their email to confirm their address.
If you're setting up a free funnel, don't want to waste this real estate! Offer an upsell and give them a peek at your other products and services.
They 'll only see this page once though, so don't add content they will need to refer back to. That's what the thank you page is for…
Thank You Page
This is where they collect their downloadable goods or find out how your product will be delivered.
Like the confirmation page, this is premium space, so use it wisely. In addition to the downloadable goods your customer requested, you also want to upsell (again, if you have that on your confirmation page). Why? The person on this page is in a buying mood and, psychologically, is predisposed to buying more. You want to take advantage of that by putting your most relevant offers on this page. To encourage buying, consider including:
Limited time offers or "Tripwires" — scarcity sells, so if you can legitimately limit sales to a few hours/days or number of units, then this is the place to do so.
Exclusive coupons — an insider's only deal can be a powerful motivator, especially if it's a fantastic price.
Extra bonuses — give access to additional products & services if they buy through that page. Offer bonuses that aren't advertised on the public sales page to create an insider's or VIP deal — people like to feel special!
Putting together a sales funnel doesn't have to be complicated. As your business grows and you have more products to offer, you can expand your funnel to include more upsells and downsells, but this simple setup is all you need to start.
Don't have the time or desire to set your funnel up?
[su_button url="https://tpoddesign.com/product/dream-page" target="blank" style="flat" background="#FF8737″ size="10″ icon="icon: rocket" text_shadow="1px 1px 2px #c95100″]Let me set it up and connect it to your email system![/su_button]